03/31/14
1807 is a big year in the history of Half Dollars. Around the world, Napolean continues his conquests, defeating the Russians and ending the war of the 4th Coalition. The British make conquests in South America, and board the USS Chesapeake, lighting the fuse for the War of 1812. Congress bans the slave trade. And Robert Fulton's steamboat the Clermont has its maiden voyage up the Hudson River. This is also the year where the US mint transitions from the Draped Bust Half Dollar design to the Capped Bust or Turban Head Design. 200 years later, John Reich's design is one of the most popular and beautiful in Numismatics.
My 1807 Capped Bust Half Dollar page
http://maibockaddict.com/1807-capped-bust-half-dollars.shtml
I can remember when I was a kid coveting these old halves while flipping through coin collecting books and price guides, from Robert Scott's Draped Bust design to those early Capped Bust Halves of Reich. I wish I could have accumulated a bunch of them back in the 70's. When I have the opportunity to obtain a good one these days, it is hard to pass. This one recently caught my eye. An O-110 that has ancient toning. Has that look of a long time collector coin, and the colors I bet would pop with Tru View PCGS photos. More here: http://maibockaddict.com/1807-o-110-draped-bust-half-dollar.shtml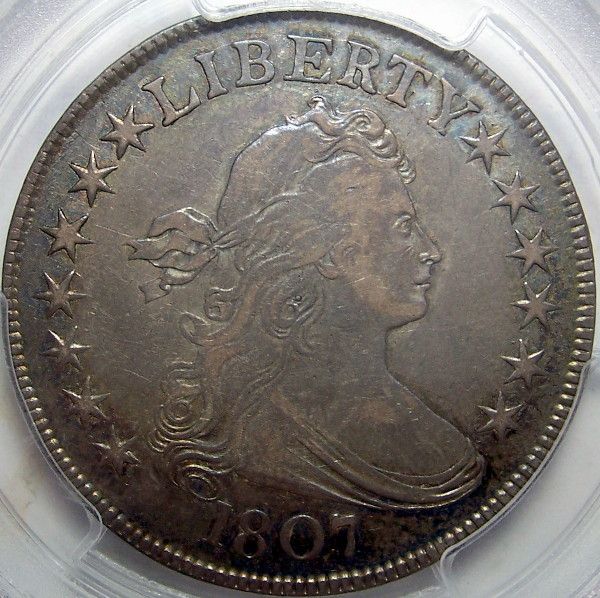 It is recorded that just over 300,000 Draped Bust Halves were minted this year, with 11 die marriages. This sounds reasonable considering the technology available back then and the quality of the dies, so have you ever thought about why, if there were 300,000 Draped Busts minted, there were supposedly 750,000 Capped Bust Halves minted with only 4 die marriages?
Here is a toasty original O-102 that I would love to know its true history:


More on the O-102 here http://maibockaddict.com/1807-o-102-r2.shtml
So let us assume that there is approximately a 1-1.5% survival rate for Bust Halves as a general rule of thumb. The rarity ratings of the 11 known Draped Bust die marriages are as follows: 1807 O-101 (R5) O-102 (R2) O-103 (R3) O-104 (R5-) O-105 (R5) O-106 (R3) O-107 (R4+) O-108 (R3) O-109 (R3) O-110 (R2) O-115 (R7+)
I am going to assign survival estimates for each Die Marriage based on the rarity ratings above: O-101 (65) O-102 (750) O-103 (350) O-104 (70) O-105 (1200) O-106 (350) O-107 (90) O-108 (350) O-109 (350) O-110 (750) O-115 (4 known) Total 4329 examples
If the survival rate for halves from this period is in the 1-1.5% range, that would get us close to the 301,076 mintage figure. 432900 would be the mintage at 1% and 288600 for 1.5%. Granted no one really will ever know an exact number of survivors, but for figuring out an actual rough number of Capped Bust Halves minted, this will suit our purposes.
Below is the most common of the 1807's, the O-112, 5/inverted 5 variety, the first year of John Reich's legendary design. This Die Marriage is usually referred to incorrectly as a 50/20, but research has shown that the digit underneath the 5 is actually an upside down 5 from the engraver punching the initial 5 inverted. http://www.maibockaddict.com/1807-o-112-r1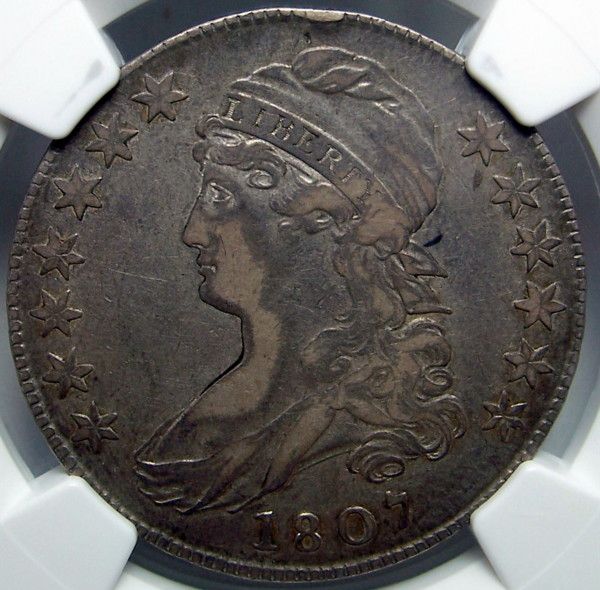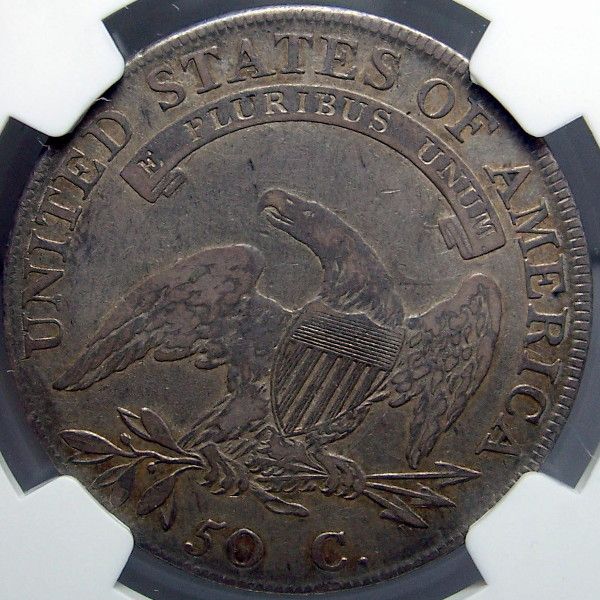 The rarity ratings for the Turban Head half dollars for 1807 are as follows: O-111 (R4+) O-112 (R1) O-113 (R2) O-114 (R3).
Now, let us place some survival estimates on these. O-111 (90) O-112 (1500) O-113 (750) O-114 (350).
I gave the O-112 the highest survival count because it appears to be by far and away the most common 1807 dated half, more common than the O-105. This is all for the sake of argument of course. If the survival rate is 1%, this would mean that the mintage is actually around 269,000. If the survival rate is 1.5%, the mintage is more like 179,000. Fuel for thought. These numbers are nothing close to the 750,000 that is published.
Here is the Large Stars O-114 http://www.maibockaddict.com/1807-o-114-r3

It is neat how crude these old halves are with strike issues being somewhat common. This 1807 below was struck with a cracked obverse die. Apparently it had some sort of impact on the strike quality as Miss Liberty is rather weak. This coin also appears to have a doubled milling, with a sort of convex effect with Miss Liberty poking up above the other obverse devices making her the target for wear. http://www.maibockaddict.com/1807-o-109a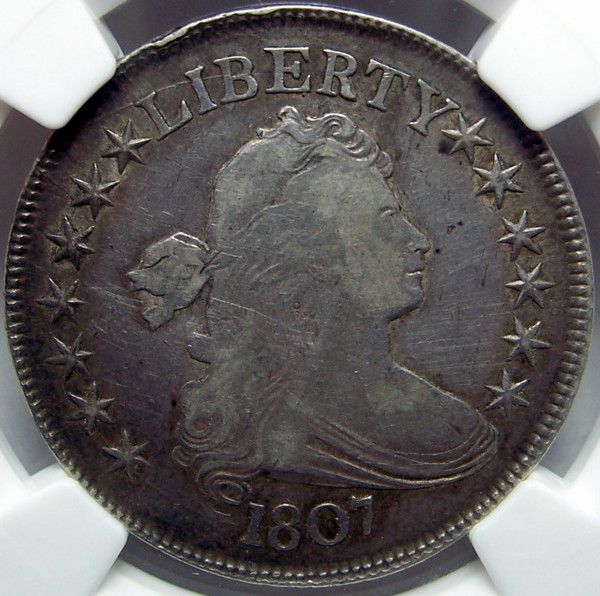 The below O-103 shares the same reverse with the extremely rare O-115 (4 known). Check your 103's! This one may have had some tooling done to perhaps remove some graffiti. I am speculating because there are a couple of strange areas obverse to either side of the Bust in the lower fields. A couple of marks remain in front of Liberty's mouth. This would explain a VF25 grade on a coin with XF luster. The strike is also a bit off center. This one falls short of the "a" model by a couple reverse cracks. http://www.maibockaddict.com/1807-o-103

Here is one last 1807. It is an O-105. Yet another example of originality. Of course, once again, this may not appeal to everyone as the toning is dark, very dark in places. This die marriage is the most common of the Draped Busts for the year. Think of all the history on this one, from an era when there were 15 states and Thomas Jefferson was President!
http://www.maibockaddict.com/1807-o-105-r1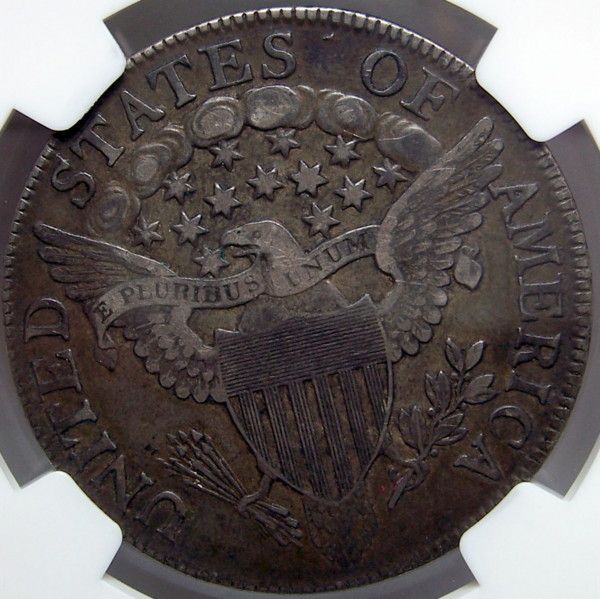 03/29/14
Sometimes I like to take a chance. I tend to like original coins, as I have pointed out, with all the dirt, toning, food, grease, and whatever other historical substances that have been attached to a coin over its long life. Sometimes a coins beauty is in its ugliness. And sometimes I just can't figure out why no one is interested in a particular coin that I happen to think may be a gem. Case in point, this 1606 Draped Bust Half. It appears to have all of its history attached to it, including some sort of orange substance obverse and reverse, and a black streak of grease (?) on the reverse, to go with its heavy toning. Below are the Heritage pics I bought off of:

I admit that at first I thought that this coin may turn out to be just plain ugly. But there are a few things about this one. First, it is not a plain 1806, but an 1806/5 overdate. Second, it has two neat die cracks, one obverse and one reverse. Third, my research indicates that this is the second best example offered for sale the past 10 years, and a few people have told me that this is a rather rare die state.
But when you get down to it, the coin looks great in hand, as the substances on the coin are less apparent. 100% of this coin's history appears to be intact, and it has great details. Think of what was going on back in 1806. Napoleon was conquering Prussia (with ease I might add). Andrew Jackson killed Charles Dickenson in a duel, proving that men were actually men back then. The first strawberry was cultivated and Lewis and Clark return from their expedition to the Pacific Northwest.
In any event, I am guessing that bidders on this coin did not appreciate this coin's originality and the fact that it is an overdate, as I won this for far less than it is worth. Below are my pics, which are more accurate:

It appears that this coin was one of the last minted from this die pairing, as there are many examples that exist with only the obverse crack. For the coin to be a true O-103 "a", both cracks must be present. Complete information can be found on my main site here:
http://maibockaddict.com/1806-o-103a-6over5-draped-bust-half-dollar.shtml

03/28/14
Some years ago, while examining my $20 gold piece, I began searching the then still young internet for coin information, and to see what was available. Having some extra funds, and noticing that things were kinda cheap (gold was around $300, which was where it was in 1978 when the previously mentioned gold piece came into my possession).
So after gently getting my feet wet and getting a handle on the internet purchase routine, I decided to buy a Capped Bust Half. I can remember when I was a little kid with a $3 a week allowance buying Lincolns, Buffalos, and other assorted inexpensive coins from Irv, the local coin shop dealer. The one thing that I would always stop and stare at was the assortment of CBH's in the case, with the lower grade examples at $15-20, well out of my range. Loved the look, and had always liked things that were old, especially that old.
Now looked like a great time to see if I could buy my first CBH. I remember the whole storm of excitement and the long waits for the mail to arrive. The beginnings of a collection! At the time, I new little to nothing of Overton numbers and was more or less just following along with the Redbook varieties. One thing caught my eye. I had purchased an 1830 CBH and was looking at the varieties (Large 0, Small 0) and then there was the Large Letters. Big dollars for that Large Letters. The 1830's that I saw listed on various internet sites made no mention of any sort of attribution. Well, I thought, there may be an opportunity here! Thus the quest began, searching and examining every 1830 CBH listed on the internet. At first comparing each coin to that miserable little pic in the Redbook then finding a better pic on line. Still, the pics were small and not clear enough to make more than a guess. I remember one coin in particular that I thought could be a match. Was not very expensive, only around $50, so I pulled the trigger!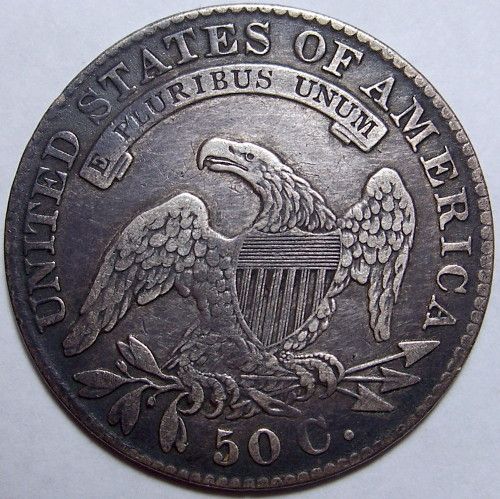 Yeah, I know. Not a Large Letter Reverse. Trying to match up crappy little pics is tough, but hey, no risk, no reward. Therefore, the quest continued! The above coin is kinda cool though. Likely someone's pocket piece, with the date May, 1841 hand engraved in front of Miss Liberty. its also all scrubbed up, and a common O-116.
Time marches on. Continuous checking and educating. Finding better resources. I can remember discovering Heritage just after the Jules Reiver collection sold, and using their pics to attribute the Bust Halves that I had obtained. Even to attribute a couple of Large Cents that I had. It was at this time that I began following Heritage and watching and buying coins off of their auctions. Looking through their archives one day I noticed that there was a low grade 1830 Large Letter in an NCS holder that was missed, selling for 50 or 60 bucks. Not the nicest coin, but someone got a bargain. There is still hope!
Then the opportunity came. One night while doing my diligence one August evening, I took a quick peek at an 1830 VF35 attributed by NGC as an O-115. The coin looked decent and original, bit I noticed one key: the worn obverse die with the stretchy stars and weak milling. Hmmmm-the reverse! That perfect Large Star reverse! Someone had messed up! Now the big problem. The coin was not to be up for auction until beginning of October. Fortunately it was in a Sunday internet auction so as to not draw the usual attention. But still, what if someone noticed? I knew an agonizing 6 week wait lay ahead. 6 weeks of checking to make sure it was still there as is. 6 weeks of obsessing!
Well, things seemed to all line up. This was 2008, and the markets were all melting down. A big Heritage auction was closing just ahead of this internet auction providing plenty of cover and distractions. And only one other bidder apart from me, probably a dealer of some sort. I won this gem and collection centerpiece for a whopping total of $92.


Amazing how having OCD can be a useful tool! What was even more amazing was when another unattributed Large Letter Reverse showed up in an ICG AU58 holder 6 months later. In that time I became a BHNC member, hitting over 100 Die Marriages. I wound up being high bidder until that last day, bidding it up to over $3K then watching as 2 others took it up to $5700. One of the guys in the club got it, for a great bargain.
I still check all of the 1830's out there just in case, as even today, you never know! The 1830 O-114 page on my site is here: http://maibockaddict.com/1830-o-114-r5-capped-bust-half-dollar.shtml
Interestingly enough, the reverse (L) on the 1830 O-114 was first used on the 1828 O-122 (reverse S).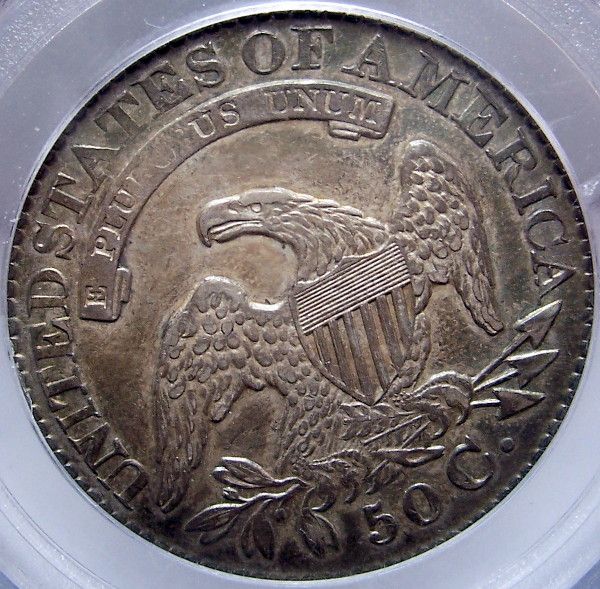 03/26/14
Sometimes it is fun to pull out one of the early purchases from when the internet was young, and I was naive. Ebay was new and Yahoo was just as good for buying stuff. I remember getting my feet wet, so to speak, making a few small dollar purchases, such as a couple of Franklins and a Walker, from some old couple through the Yahoo marketplace. Nothing special, but it was exciting to be able to purchase coins and have them delivered, as there was no real alternative at the time. Often, these inexpensive coins would be sold without even a picture. But hey, it was fun, easy, no taxes, and it seamed to work pretty well for the most part.
One of the coins, a RAW bust half, that I picked up was from an "Estate Sale". That famous pull quote that seems to be ubiquitous on Ebay. The description was enticing, though remembering what it specifically was is impossible. Don't even remember what I even paid. That said, it has become the poster child for what I try to obtain for my nutty collection.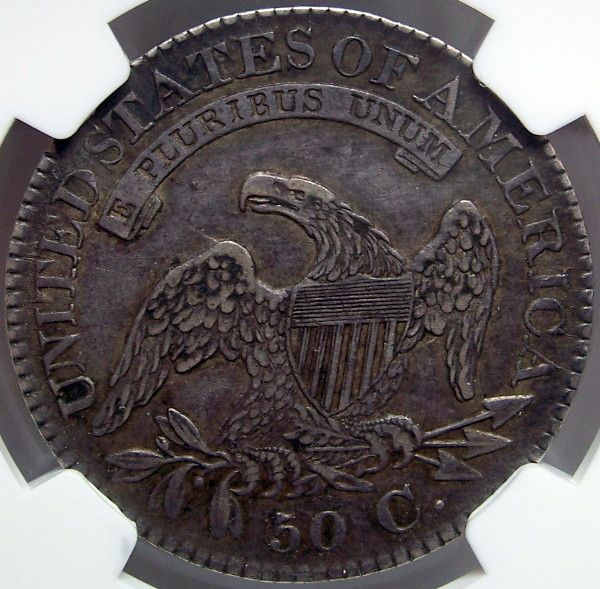 In the days when I was trying to figure out what was good and what was bad in the coin world, not knowing anything about slabbed coins, and where photos were either non-existent or so bad that there may as well not have been one in the first place, it was usually a crap shoot. But this one is a true winner. Completely original, this one somehow managed to miss the chemicals and scrubbers that have been commonly employed in defacing most of the 100 plus year old coins that still exist today. Years later, after learning about slabbing and grading, I had this one encapsulated by NGC as an AU50. Now I think many would argue that this is more of a 45 due to the lack of flash, but to me the grade doesn't, matter. Having a nearly 200 year old coin that has its entire history present on its surfaces is nearly priceless. And this has been my main focus for my collection. Get the most original examples possible, with all the grease, dirt, and toning that belongs on something that should look as old as it is.