03/26/14
Filed under:
General
Posted by:
@ 1:18 pm
Sometimes it is fun to pull out one of the early purchases from when the internet was young, and I was naive. Ebay was new and Yahoo was just as good for buying stuff. I remember getting my feet wet, so to speak, making a few small dollar purchases, such as a couple of Franklins and a Walker, from some old couple through the Yahoo marketplace. Nothing special, but it was exciting to be able to purchase coins and have them delivered, as there was no real alternative at the time. Often, these inexpensive coins would be sold without even a picture. But hey, it was fun, easy, no taxes, and it seamed to work pretty well for the most part.
One of the coins, a RAW bust half, that I picked up was from an "Estate Sale". That famous pull quote that seems to be ubiquitous on Ebay. The description was enticing, though remembering what it specifically was is impossible. Don't even remember what I even paid. That said, it has become the poster child for what I try to obtain for my nutty collection.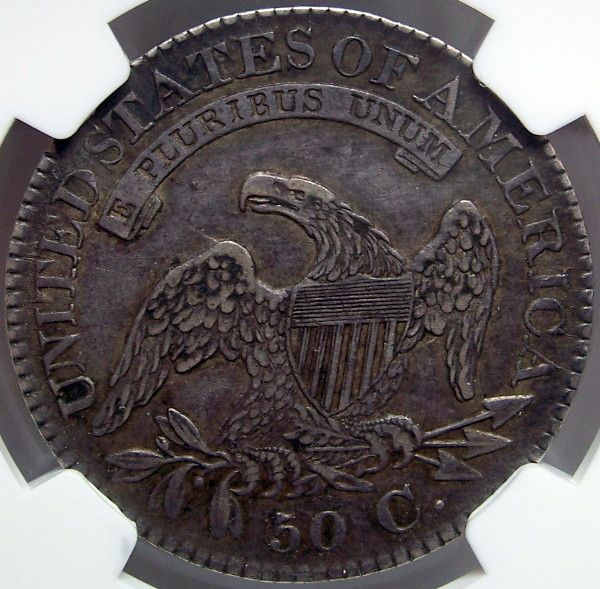 In the days when I was trying to figure out what was good and what was bad in the coin world, not knowing anything about slabbed coins, and where photos were either non-existent or so bad that there may as well not have been one in the first place, it was usually a crap shoot. But this one is a true winner. Completely original, this one somehow managed to miss the chemicals and scrubbers that have been commonly employed in defacing most of the 100 plus year old coins that still exist today. Years later, after learning about slabbing and grading, I had this one encapsulated by NGC as an AU50. Now I think many would argue that this is more of a 45 due to the lack of flash, but to me the grade doesn't, matter. Having a nearly 200 year old coin that has its entire history present on its surfaces is nearly priceless. And this has been my main focus for my collection. Get the most original examples possible, with all the grease, dirt, and toning that belongs on something that should look as old as it is.

Leave a Reply