03/31/14
Filed under:
General
Posted by:
@ 5:18 pm
1807 is a big year in the history of Half Dollars. Around the world, Napolean continues his conquests, defeating the Russians and ending the war of the 4th Coalition. The British make conquests in South America, and board the USS Chesapeake, lighting the fuse for the War of 1812. Congress bans the slave trade. And Robert Fulton's steamboat the Clermont has its maiden voyage up the Hudson River. This is also the year where the US mint transitions from the Draped Bust Half Dollar design to the Capped Bust or Turban Head Design. 200 years later, John Reich's design is one of the most popular and beautiful in Numismatics.
My 1807 Capped Bust Half Dollar page
http://maibockaddict.com/1807-capped-bust-half-dollars.shtml
I can remember when I was a kid coveting these old halves while flipping through coin collecting books and price guides, from Robert Scott's Draped Bust design to those early Capped Bust Halves of Reich. I wish I could have accumulated a bunch of them back in the 70's. When I have the opportunity to obtain a good one these days, it is hard to pass. This one recently caught my eye. An O-110 that has ancient toning. Has that look of a long time collector coin, and the colors I bet would pop with Tru View PCGS photos. More here: http://maibockaddict.com/1807-o-110-draped-bust-half-dollar.shtml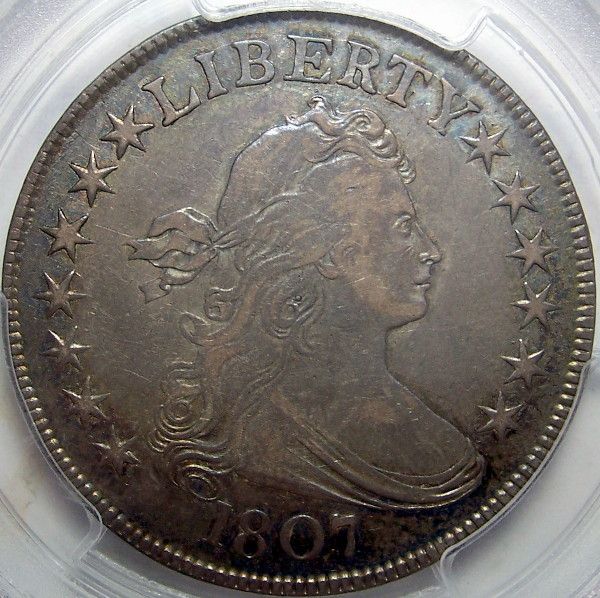 It is recorded that just over 300,000 Draped Bust Halves were minted this year, with 11 die marriages. This sounds reasonable considering the technology available back then and the quality of the dies, so have you ever thought about why, if there were 300,000 Draped Busts minted, there were supposedly 750,000 Capped Bust Halves minted with only 4 die marriages?
Here is a toasty original O-102 that I would love to know its true history:


More on the O-102 here http://maibockaddict.com/1807-o-102-r2.shtml
So let us assume that there is approximately a 1-1.5% survival rate for Bust Halves as a general rule of thumb. The rarity ratings of the 11 known Draped Bust die marriages are as follows: 1807 O-101 (R5) O-102 (R2) O-103 (R3) O-104 (R5-) O-105 (R5) O-106 (R3) O-107 (R4+) O-108 (R3) O-109 (R3) O-110 (R2) O-115 (R7+)
I am going to assign survival estimates for each Die Marriage based on the rarity ratings above: O-101 (65) O-102 (750) O-103 (350) O-104 (70) O-105 (1200) O-106 (350) O-107 (90) O-108 (350) O-109 (350) O-110 (750) O-115 (4 known) Total 4329 examples
If the survival rate for halves from this period is in the 1-1.5% range, that would get us close to the 301,076 mintage figure. 432900 would be the mintage at 1% and 288600 for 1.5%. Granted no one really will ever know an exact number of survivors, but for figuring out an actual rough number of Capped Bust Halves minted, this will suit our purposes.
Below is the most common of the 1807's, the O-112, 5/inverted 5 variety, the first year of John Reich's legendary design. This Die Marriage is usually referred to incorrectly as a 50/20, but research has shown that the digit underneath the 5 is actually an upside down 5 from the engraver punching the initial 5 inverted. http://www.maibockaddict.com/1807-o-112-r1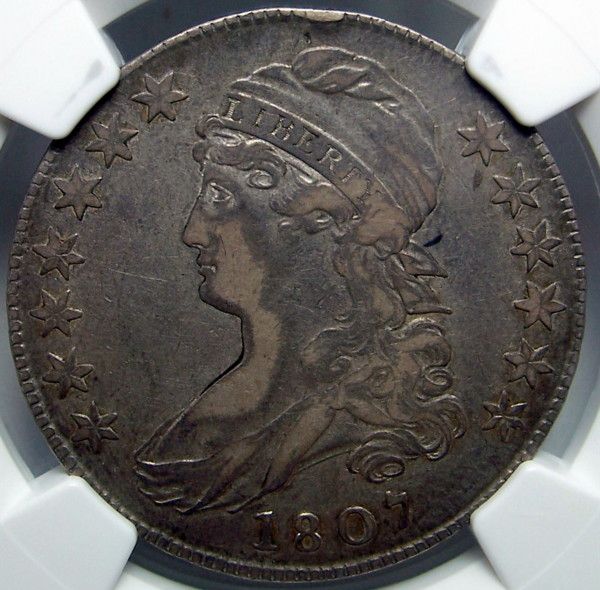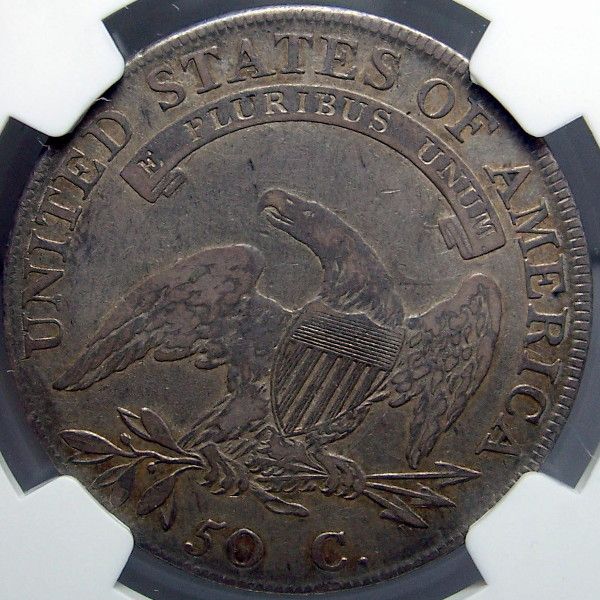 The rarity ratings for the Turban Head half dollars for 1807 are as follows: O-111 (R4+) O-112 (R1) O-113 (R2) O-114 (R3).
Now, let us place some survival estimates on these. O-111 (90) O-112 (1500) O-113 (750) O-114 (350).
I gave the O-112 the highest survival count because it appears to be by far and away the most common 1807 dated half, more common than the O-105. This is all for the sake of argument of course. If the survival rate is 1%, this would mean that the mintage is actually around 269,000. If the survival rate is 1.5%, the mintage is more like 179,000. Fuel for thought. These numbers are nothing close to the 750,000 that is published.
Here is the Large Stars O-114 http://www.maibockaddict.com/1807-o-114-r3

It is neat how crude these old halves are with strike issues being somewhat common. This 1807 below was struck with a cracked obverse die. Apparently it had some sort of impact on the strike quality as Miss Liberty is rather weak. This coin also appears to have a doubled milling, with a sort of convex effect with Miss Liberty poking up above the other obverse devices making her the target for wear. http://www.maibockaddict.com/1807-o-109a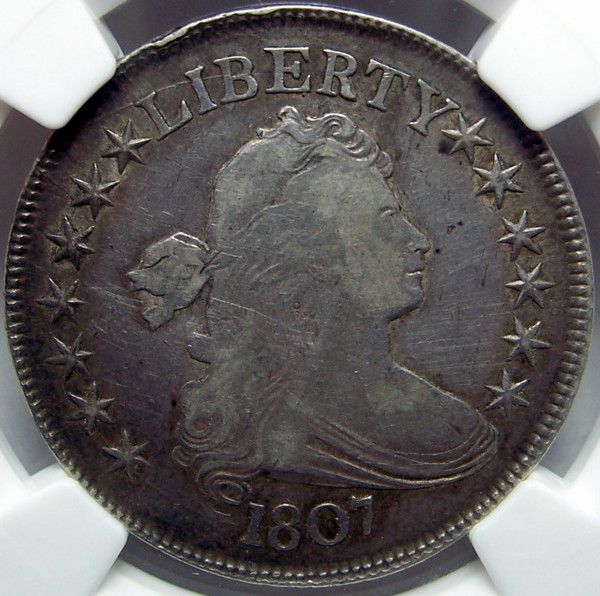 The below O-103 shares the same reverse with the extremely rare O-115 (4 known). Check your 103's! This one may have had some tooling done to perhaps remove some graffiti. I am speculating because there are a couple of strange areas obverse to either side of the Bust in the lower fields. A couple of marks remain in front of Liberty's mouth. This would explain a VF25 grade on a coin with XF luster. The strike is also a bit off center. This one falls short of the "a" model by a couple reverse cracks. http://www.maibockaddict.com/1807-o-103

Here is one last 1807. It is an O-105. Yet another example of originality. Of course, once again, this may not appeal to everyone as the toning is dark, very dark in places. This die marriage is the most common of the Draped Busts for the year. Think of all the history on this one, from an era when there were 15 states and Thomas Jefferson was President!
http://www.maibockaddict.com/1807-o-105-r1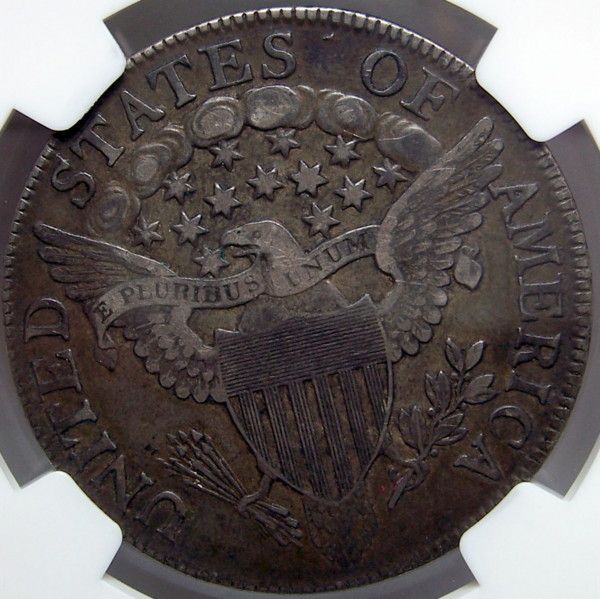 Leave a Reply